SAUDI ARAMCO
CROWNED
GREEN WORLD CHAMPIONS
IN THE
GREEN WORLD AWARDS 2019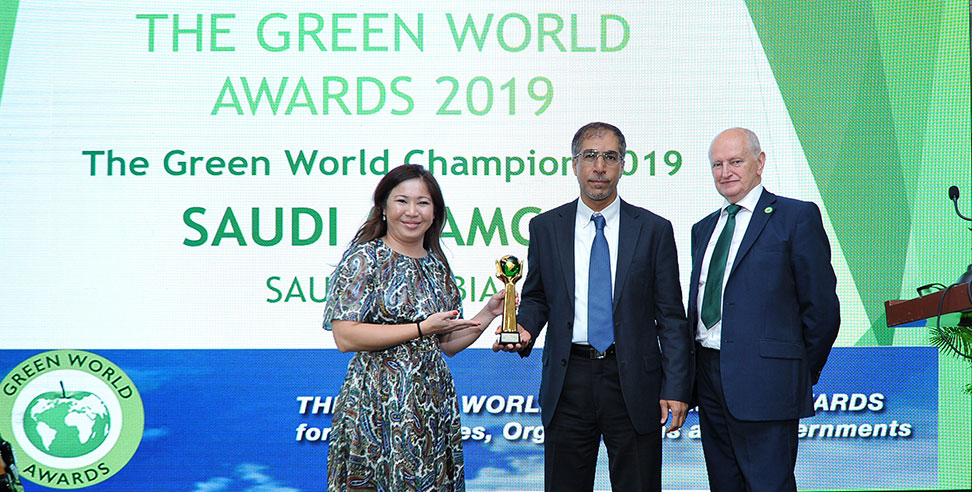 Saudi Aramco are presented with their Green World Champion trophy at the presentation ceremony hosted by last year's Champions, PGT-Reclaimed, in the
Park Hyatt Hotel, Ho Chi Minh City, Vietnam,
on September 30, 2019.

---
The other direct entry winners were
INDUSTRY
GLOBAL GOLD
SAUDI ARAMCO, FRACTIONATION DEPT SAUDI ARABIA
SPENT CAUSTIC MINIMISATION

GLOBAL SILVER
TCI CO LTD TAIWAN
INTEGRATING THREE ELEMENTS

GLOBAL BRONZE
WISER WASH TESTIL KONFEKSIYON TURKEY
DEVELOPMENT OF OZONE EFFECTING SYSTEM
INDUSTRY/ENERGY
GLOBAL GOLD
KOREA AIRPORTS CORPORATION KOREA
ENERGY MANAGEMENT

GLOBAL SILVER
EREN ENERJI ELEKTRIK URETIM A.S. TURKEY
EREN ENERJI THERMAL POWER PLANTS

GLOBAL BRONZE
INSEE ECOCYCLE THAILAND
MSW-RDF PROJECT

GLOBAL BRONZE
SAUDI ARAMCO – HARADH GAS PLANT SAUDI ARABIA
NEW MONITORING TECHNOLOGY
INDUSTRY/INNOVATION
GLOBAL GOLD
SAUDI ARAMCO
FLARE GAS RECOVERY SYSTEM SAUDI ARABIA
GLOBAL SILVER
VECOR  HONG KONG
WORLD'S FIRST SYSTEMA LEONARDO PLANT
GLOBAL BRONZE
HAIR O'RIGHT INTL CORP. 
SCALP REVITALISER TAIWAN
COMMERCE
GLOBAL GOLD
TRUSTFORD UK
PUTTING OUR PEOPLE AT THE HEART OF SUSTAINABILITY
GLOBAL SILVER
HAIR O'RIGHT INTL CORP. TAIWAN
GREEN PRODUCT
SUSTAINABILITY
GLOBAL GOLD
PGT-RECLAIMED VIETNAM
FOR A GREENER FUTURE
GLOBAL SILVER
BOTAS TURKEY
TUZ GOLU 3
GLOBAL BRONZE
TANAP NATURAL GAS PIPELINE TRANSMISSION CO. TURKEY
TANAP NATURAL GAS PIPELINE PROJECT
GOVERNMENT/ GOVERNMENT AGENCY
GLOBAL GOLD
BOTAS TURKEY
STUDIES OF PROTECTING BIODIVERSITY
GLOBAL SILVER
BOTAS PETROLEUM PIPELINE CORP TURKEY
TOZ GOLU (SALT LAKE) UNDERGROUND GAS STORAGE
GLOBAL BRONZE
DESALINATION TECHNOLOGIES RESEARCH INSTITUTE SAUDI ARABIA
SWCC ENVIRO INITIATIVE
REGIONAL/LOCAL GOVERNMENT
GLOBAL GOLD
PAYBYPHONE UK
METERS FOR TREES
GLOBAL SILVER
THE REGIONAL MUNICIPALITY OF YORK  CANADA
YORK REGION'S GREEN INFRASTRUCTURE
GLOBAL BRONZE
MAJLIS PERBANDARAN PASIR GUDANG MALAYSIA
WASTE COMPOSTING PROGRAMME
CARBON REDUCTION
GLOBAL GOLD
PAYBYPHONE UK
METERS FOR TREES
GLOBAL SILVER
BOTAS TURKEY
TUZ GOLU 2
ORGANISATION
GLOBAL GOLD
ENTRY INVALIDATED.  AWARD WITHDRAWN
GLOBAL BRONZE
HAIR O'RIGHT TAIWAN
ACHIEVING SUSTAINABLE INNOVATION
PROPERTY MANAGEMENT
GLOBAL GOLD
TRINITY WALK SHOPPING CENTRE  UK
TRINITY ECO WALK
SERVICE INDUSTRY
GLOBAL SILVER
THE EXTERMINATORS  SRI LANKA
Other Global Gold winners from Green World Ambassadors and CSR World Leaders included…
AUTOMOTIVE
TAD COMMUNICATIONS
BUILDING & CONSTRUCTION
KELTBRAY (Hydrogen Fuel Cell)
KIER LOCAL HIGHWAYS (Going the extra mile)
CIVIL ENGINEERING
BARHALE & NMCNOMENCA
EDUCATION & TRAINING
MANIPAL ACADEMY OF HIGHER EDUCATION
ENGINEERING
GPS MARINE CONTRACTORS
FARMING
MACROLLY GREENWOODS ENTERPRISES
FINANCE/INSURANCE
NEWDAY
FUEL, POWER, ENERGY
EATON
LEISURE/HOSPITALITY
BOURNE LEISURE (HAVEN)
LOCAL AUTHORITIES
CITY OF SUWON, KOREA
ISKANDAR PUTERI CITY COUNCIL
MANUFACTURING
BAE SYSTEMS SURFACE SHIPS
MEDIA
IN YOUR FACE ADVERTISING
PRODUCTS
ECOPAINT
PROPERTY MANAGEMENT
CLYDE SHOPPING CENTRE
JLL/OFFICES (8-10 Great George Street)
MEDIACITY UK
SERVICES
FLOORBRITE CLEANING & FACILITIES SERVICES
PROPERTY SUPPORT SERVICES & PAPER ROUND
McLAREN GROUP
TRAVEL/TRANSPORT
STANSTED AIRPORT
WASTES MANAGEMENT
GRUNDON WASTE MANAGEMENT
WATER, UTILITIES
NORTHERN IRELAND WATER
CORPORATE SOCIAL RESPONSIBILITY
BUILDING & CONSTRUCTION
SUFFOLK HIGHWAYS
PRODUCTS
MARMAX RECYCLED PRODUCTS
COMMUNICATIONS
TURKCELL ILETISIM HIZMETLERI A.S.